A rarified few components in audiophile lore have become so ubiquitous that nearly every music lover once had, lusted after, or if they're really lucky, currently owns one. One such legend is the Bryston 4B. This product has been manufactured continuously (though often refined) since 1978. Currently this venerated amplifier is on its 6th generation, and it's never been better. Now rated at 300 watts per channel into 8 ohms, (and upwards of 500 into 4 ohms), this true dual-mono amplifier is powerful enough for practically any speaker, yet it's priced to remain within reach. The degree of clarity, power, nuance, and outright truthfulness of this amp is stunning. If you've always wanted one, maybe now is just the right time.

Features
Balanced XLR and Single ended RCA input
2 Channels each with fully independent power supplies including transformers
300W into 8 ohms (and up to 500 into 4 ohms) per channel
The patented Salomie circuit found in all Cubed Series amplifiers
Two step switchable gain 23dB or 29dB (no fully variable gain regulation trimmers)
Fully convection cooled means no noisy fans
Machined and anodized aluminum enclosure and dress panel
Less than 500mW standby power consumption
SoftStart microprocessor controlled startup sequence won't trip circuit breakers
DC trigger for automated turn on and turn off
Legendary Bryston 20 Year Warranty
Options
Silver or black faceplate
17" or 19" faceplate (non-rack mountable) 19" comes with front mounted handles
PRO version includes 19" rack mount dress panel in black plus rear panel channel trim pots (-14 to 0dB)
Reviews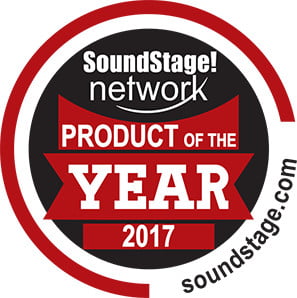 Awarded for Exceptional Value (

Doug Schneider,

SoundStage!HiFi) Read Review...
A well-designed solid-state amplifier should fulfil the purest principles of music reproduction, accepting the input signal, then transparently and harmlessly delivering it to the transducers regardless of their inherent electrical demands, providing effortless and tight control of the drivers while manifesting boundless dynamic expression, detailed resolution and accurate tonality. In the 4B³, Bryston has covered all these bases covered... for at least 20 years. (

Edgar Kramer,

Audio Esoterica) Read Review...
I heard sound that was at once brawny and precise, yet very subtle and refined when the music required it. I've said similar things about various amplifiers in the past, but the Bryston was truly remarkable in how it sacrificed little, if any, power output while retaining an extremely sophisticated and nuanced sound that I hadn't thought possible... (

Roger Kanno,

Soundstage!) Read Review...
The latest 4B3 is a masterful and superbly executed amplifier, if you are looking for control, extension, evenness and a whole lot of listening fun it should be very high on your must hear bucket list. I will be very sorry to see it go. (

Jason Kennedy,

The Ear)

Read Review...
Bryston's design team appears to have met its stated goal of delivering an overall neutral and natural presentation by ensuring an essentially neutral power response. I liked the sound of the amps so much I requested a review sample of the new 4B Cubed stereo model. (

Maurice Jeffries,

Postive Feedback) Read Review...
I actually think that the Bryston 4B³ overall is one of the best amplifiers currently on the market. (

Martin Mertens,

Fair Audio) Read Review...
If you ask about my individual and very subjective opinion, then the Bryston 4B3 seems to be the summit not only of my audiophile, but also my reviewers dreams. (

Jacek Pazio,

Sound Rebels) Read Review...
In the STEREO listening room, the Brystons unleashed a kind of unbelievable elemental force, whose pronounced rhythm, texture, and subtlety amaze on closer inspection. (

Tom Frantzen,

Stereo Magazine) Read Review...
So nicely powerful, and its timbre so rich and sonorous that it can be difficult to switch to another amp after listening to a few tracks... Bryston's latest Cubed series really has taken the sound to a whole new level. (

Christiaan Punter,

HFA) Read Review...
Specifications
Dimensions

Inches: 17 or 19 W x 6.3 H x 15.5 or 17.75 (with front handles) D

Weight

42 lbs | 19 kg

Frequency Response:

<1Hz - 100kHz: -3dB

THD+N (20Hz-20kHz @ Rated Power, 8Ω):

<0.005%

Power Output (per channel):

300W @ 8Ω | 500W @ 4Ω

Noise:

RCA: -112dB
XLR: -117dB

Input Impedance:

Unbalanced 7.5kΩ
Balanced 30kΩ+ / 6kΩ-
20 Year Warranty